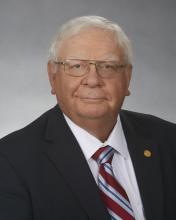 Term Expires:
Location:
West Point, MS
Charles D Miles MD is a native Mississippian, born in Bruce, Mississippi and grew up in the Mississippi Delta community of Brazil in Tallahatchie County. After attending the University of Mississippi for undergraduate, he attended the University of Mississippi School of Medicine in Jackson. He then completed an Internship, followed by a residency in Obstetrics and Gynecology at UMMC. After completion of residency in 1973, he served in the United States Navy as a Lieutenant Commander, Medical Corps, at the Naval Aerospace Regional Medical Center in Pensacola, Florida. After being honorably discharged from the Navy, he moved to Columbus, Mississippi, and practiced Obstetrics and Gynecology there until 1999 when he moved to West Point, Mississippi to continue practice with The Women`s Group. He was appointed to serve on the Mississippi State Board of Medical Licensure in 2010 by then Governor Barber and reappointed by Governor Bryant in 2016.
Dr. Miles has served on the medical staff of Golden Triangle Regional Medical Center, Baptist Memorial Medical Center-Golden Triangle, North Mississippi Medical Center, West Point, North Mississippi Health Services, and North Mississippi Health Clinics. 
Fellow of the American College of Obstetrics and Gynecology
Diplomat of the Board of Obstetrics and Gynecology
Mississippi Medical Association
Prairie Medical Society
Committee member Federation Of State Medical Boards
Delegate Federation of State Medical Boards
Southern Medical Association
Ruling Elder, First Presbyterian Church EPC, West Point, Mississippi.