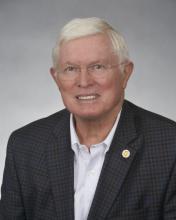 Position:
Consumer Health Ad Hoc Committee Member
Term Expires:
Location:
Ridgeland, MS
Major General (Ret) "Erik" Hearon, CPA was the Assistant Adjutant General -- Air, MS Air National Guard (ANG) and also commander of the MS ANG.  He also served as the national ANG Assistant to the Assistant Secretary of the Air Force for Manpower and Reserve Affairs. He began his highly decorated military career in January 1970 and retired February 2010. 
He earned many awards and decorations.  The highest federal decorations, in order of precedence, include the Defense Service Medal-USAF, Legion of Merit, Airman's Medal and Bronze Star Medal.
Major General (Ret) "Erik" Hearon is married and has three children and four grandchildren. He also enjoys his humanitarian efforts of raising awareness on bone marrow transplants.